SW Colorado Fall 2024 Sept 30th - Oct 4th
SW Colorado
Southwest Colorado is a true wonderland during the autumn season. As the leaves of the aspen trees turn from green to golden yellow, the landscape is transformed into a stunning vista of vibrant colors that is nothing short of magical. The contrast of the bright yellow leaves against the blue sky and the mountains in the distance creates a breathtaking scene that is truly awe-inspiring. And sometimes, if you're lucky, the first snowfall of the season adds an extra layer of enchantment to the already stunning landscape. This region at this time of year is a photographer's paradise!!!!

As your photography instructor and guide, I am extremely excited to show you the wonders of this amazing area. With my extensive knowledge of the region, having spent months living outdoors out of my jeep rooftop tent exploring every nook and cranny, I can assure you that your experience with me on this workshop will be out of this world. I am passionate about showcasing the hidden gems of this region that many people are not aware of, and I promise to take you to places that most don't know about. With my guidance, you will capture breathtaking images of the majestic mountains, stunning waterfalls, and serene meadows that this area has to offer. Together, we will create a unique and unforgettable experience that will leave you with not only stunning photographs but also cherished memories. Get ready to embark on an adventure that will exceed your expectations and showcase the beauty of the Southwest Colorado region in a way that you've never seen before.
WORKSHOP DETAILS

• Cost • Single Occupancy - $3,450 • Double Occupancy - $2,950 •
(Please scroll to the bottom of the page to make payment.)
• Group Size – 5 participants
• Skill level - Amateur through professional
• Activity Level – Extremely low - there will be hardly any hiking at all. Almost everywhere we will be shooting will be within 10-100 yards of our vehicle.
• Duration - 5 Days / 4 Nights
• Location - Our photo adventure will take place around the towns of Ouray, Telluride, Ridgway, Silverton, Crested Butte, Lake City (alpine loop) which are located in the San Juan, San Miguel, and Westelk Ranges
• Accommodations - (Provided) We will be staying at the "Box Canyon Lodge & Hot Springs" located in Ouray, Colorado Known as the "Switzerland of America," Ouray, Colorado, is a beautiful mountain town surrounded by rugged canyons and the unparalleled beauty of the San Juan Mountains.
• Transportation - (Provided) Transportation will be provided throughout the entirety of the workshop. We will be in a 4WD off-road-capable vehicle.
• Getting to The Box Canyon Lodge & Hot Springs in Ouray, Colorado
The closest airport to where we are staying is Montrose Airport. The second closest airport is Telluride Airport, followed by Grand Junction.
- 1 - Montrose airport to Box Canyon Lodge -- 50-minute drive.
- 2 - Telluride Airport to Box Canyon Lodge -- 1 hour 10 minutes
- 3 - Grand Junction Airport to Box Canyon Lodge – 2 hours
I will create a "WhatsApp" group chat for the workshop once we finalize attendees, & we can then coordinate when everyone's flights arrive and potential carpools to the lodge.
• Cost • Single Occupancy: $3,450 • Double Occupancy: $2,950 •



Whats Included
• Hotel Accommodations for 4 nights
• Transportation throughout the workshop
• Snacks & drinks
• 5 days of professional photography instruction guided to the most incredible pre-scouted locations during the best time of the day.
• Astrophotography sessions (optional)
• Photography instruction covering composition, settings, gear, etc…
• Useful app training used for scouting, planning, navigating, etc…
• Classroom session on Editing using Lightroom & Photoshop
• We will be editing / critiquing your favorite photos from the trip together & going over any topics you would like. I will also simplify the following topics and make them easily understandable for anyone interested - Masking, Panoramic Stitching, HDR Stitching, Focus Stacking, Blending Skies with Foreground, Star – trail blending, Basic image cleanup using Photoshop (more advanced from Lightroom).And many many more topics that can be covered in class
• A bunch of behind-the-scenes images and footage of you guys having the best time ever!!!


Whats not included
• Meals
• Transportation to and from Ouray, CO

Field & Classroom Instruction will Include the following:
• How to create and craft visually compelling compositions that are well balanced.
• Understanding exposure & how to balance your manual settings for each scene.
• How stops of light work, & how to use this knowledge to get creative.
• How to read your histogram to get the most data out of your capture.
• Technical Photography Skills - Focus Stacking, Exposure Bracketing, Panoramic Shooting.
• Choosing the right lens/focal length for different types of scenes.
• Using Filters to get extra creative with your images.
• How to eliminate everything that may cause you image to be soft.
• How to create depth & atmosphere in your in photos.
• How to shoot with post processing in mind
• In-field instruction on planning and scouting smartphone apps such as Photopills.
• Tips and tricks on how to use you smartphone to get the best imagery.

• Lightroom Catalog Development / Structure - Import / Export / Organize
• Correcting white balance
• Toning your image
• Dodging & Burning (creating contrast)• Local VS Global adjustments and when to use each.
• Masking in both Lightroom and Photoshop
• Basic layers in photoshop
• How to create depth and atmosphere in Lightroom and photoshop.
• How to make an image look more dreamy.
• Sharpening for web & for print.
• How to prepare and export for print.
• Image Critiques

Itinerary & What to Expect


• On our first day we will meet where we are staying at 3:00pm. We will have a brief orientation and introduce each other before we head off for our first evening adventure. If you have not eaten, I will have food, drinks, and snacks with me for everyone this evening.
• On all of the following days, we will be hitting the road in the morning some time between 4:30 a.m. and 6:00 a.m., depending on the location we have planned. After our morning photography sessions, we will go for breakfast, and on some days we will take a break back at the hotel with a class session to follow. On other days, we will continue on our adventure, but I will be sure to add some time for rest each day.
• We will be back at the lodge between 830pm-10pm each night. After heading back, I will be offering night-time astrophotography sessions on 2 of the nights. Those that want to stay back are welcome to do that. We will be back from night shooting by 12pm on those nights, and they will only be held prior to the mornings in which we wake up later.
• My list of locations in this region is extremely vast. With that said, where we go will always depend on conditions. I will pre-scout the entire region again prior to the workshop and will plan locations according to where the foliage is peaking and the most vibrant. Secondly, I will be constantly checking atmospheric conditions as well as light & that is what will guide us.
Recommended Photography Gear

• Mirrorless or DSLR Camera
• Lenses with a focal range covering from wide to telephoto. (16-35, 24-70, 70-200 or 100-400)
• Camera L-Bracket plate for easy/quick shifting from landscape to portrait orientating.
• Sturdy Tripod with a Ballhead
• Shutter release remote.
• Plenty of cleaning cloths and a rocket dust blower.
• Plenty of extra batteries & charger.
• Plenty of extra memory cards.
• Filters – ND Filters and a Polarizer.
• Laptop so that we can edit together – with Lightroom + Photoshop installed.
• Smartphone with downloadable apps
• Drones are welcome - there will be plenty of opportunity to fly your birdcam.

Recommended Personal Gear
(The temperature ranges from 65 to 40 degrees at this time of year.)
• Clothing that can be layered for warmth.
• Warm pants that are quick dry or waterproof.
• Thermal Under layers
• Warm Jacket, Gloves, & Hat
• Hand & Toe Warmers
• Waterproof hiking boots
• Umbrella
• Raincoat
• Sunscreen
• Sunglasses
• Headlamp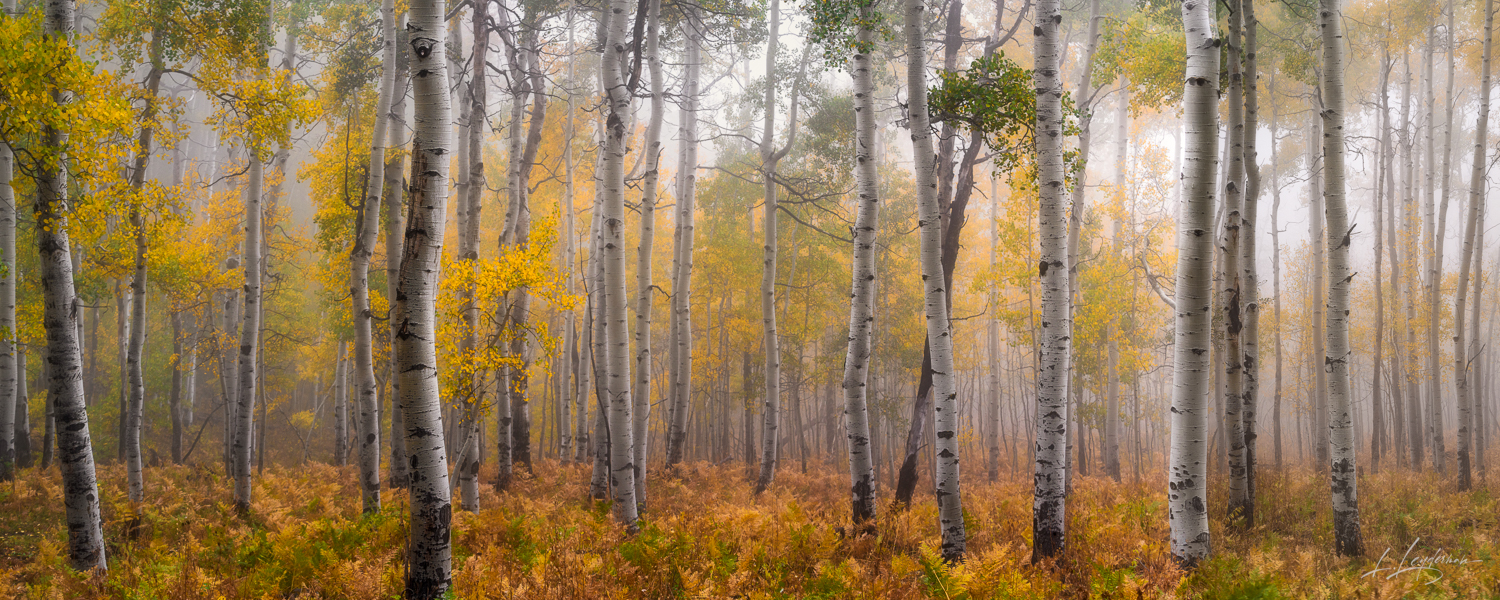 Payment Terms
• Your deposit of 50% will hold your spot.
• Remaining 50% balance must be paid within 90 days of workshop.
• Fully refundable 90 days prior to the workshop & only refundable if your spot can be filled afterwards.
Photo © copyright by Lawrence Leyderman.
Workshop 50% Payment - Single Occupancy
$1,725.00
Workshop Full Payment - Single Occupancy
$3,450.00
Workshop Full Payment - Double Occupancy
$2,950.00
Workshop 50% Payment - Double Occupancy
$1,475.00