About The Prints
Testament to Quality
We use the best labs in the United States which only use top of the line materials and processes in all aspects of producing our fine art prints. Using Fujiflex Chromogenic Paper, Diasec® Trulife® Acrylic Facemounts, with a sturdy float frame on the back.
We Pride Ourselves on Quality and Attention to Detail.
Our Fine Art is Museum Grade.
All prints are limited to editions of 25 pieces - numbered and signed.
A signed certificate accompanies each print
A signed certificate comes with each artwork.
All prints come ready to hang with all hardware.

---
We Offer Our Fine Art Prints in 2 Ways :
(1) GALLERY FLOAT - FUJI Crystal Archive Paper / ALUMINUM MOUNT / Float Frame / UV Protective Laminate / French Cleat (Photo on Metal)
(2) MUSEUM FLOAT - FUJI Crystal Archive Paper / TRULIFE® Acrylic Facemount / DIASEC® Bonded / French Cleat (Photo Sandwiched by Acrylic)
---
------- BELOW I DETAIL THE PROCESS AND DESCRIBE EACH PART IN MORE DETAIL -------

---
The first step once the art work is ready to go to the lab is proofing - I personally proof every single piece of artwork, reprinting over and over until all colors, brightness and tonality are perfect.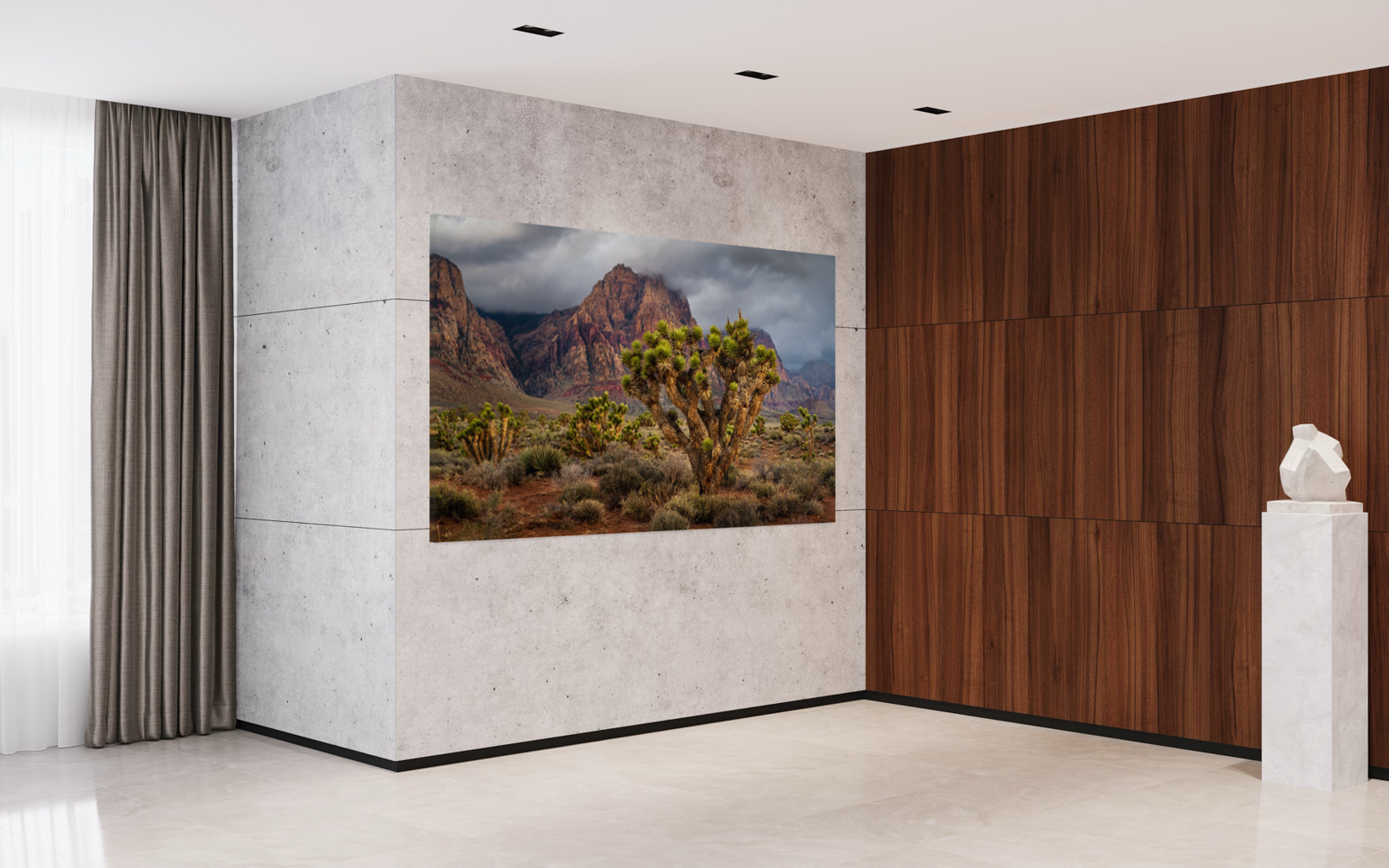 ---

THE PAPER - FUJI COLOR CRYSTAL ARCHIVE PRO MAXIMA
Fujicolor Crystal Archive Professional Paper MAXIMA is the ultimate photo paper for fine art photography. This paper is specially designed for fine art and museum display, high-end output results. This is the perfect paper for customers with ultimate quality demand, and the pursuit of distinctive visual appearance.

What makes this paper special?

-Rich image color
-Outstanding Longevity with razor-sharp details
-Exceptional surface gloss and flatness. Looks wet.
-Pure whites, deep blacks, and great shadow detail
-Optimized silver halide crystals for laser exposure.
-Its high maximum density results in great shadow details and beautiful deep blacks.
-Exceptional color gamut
-Developed for the gallery & museum market and their high-end prints.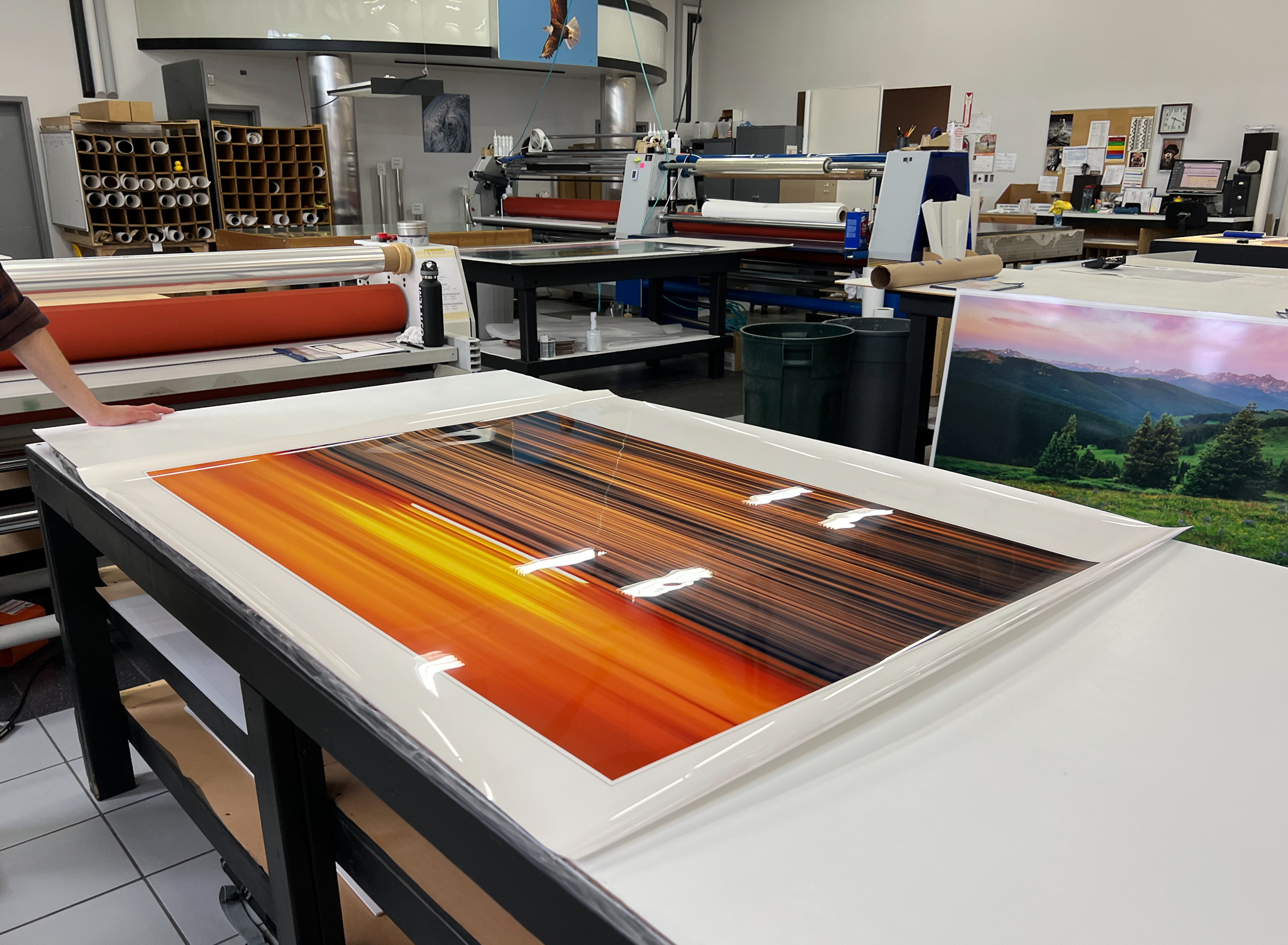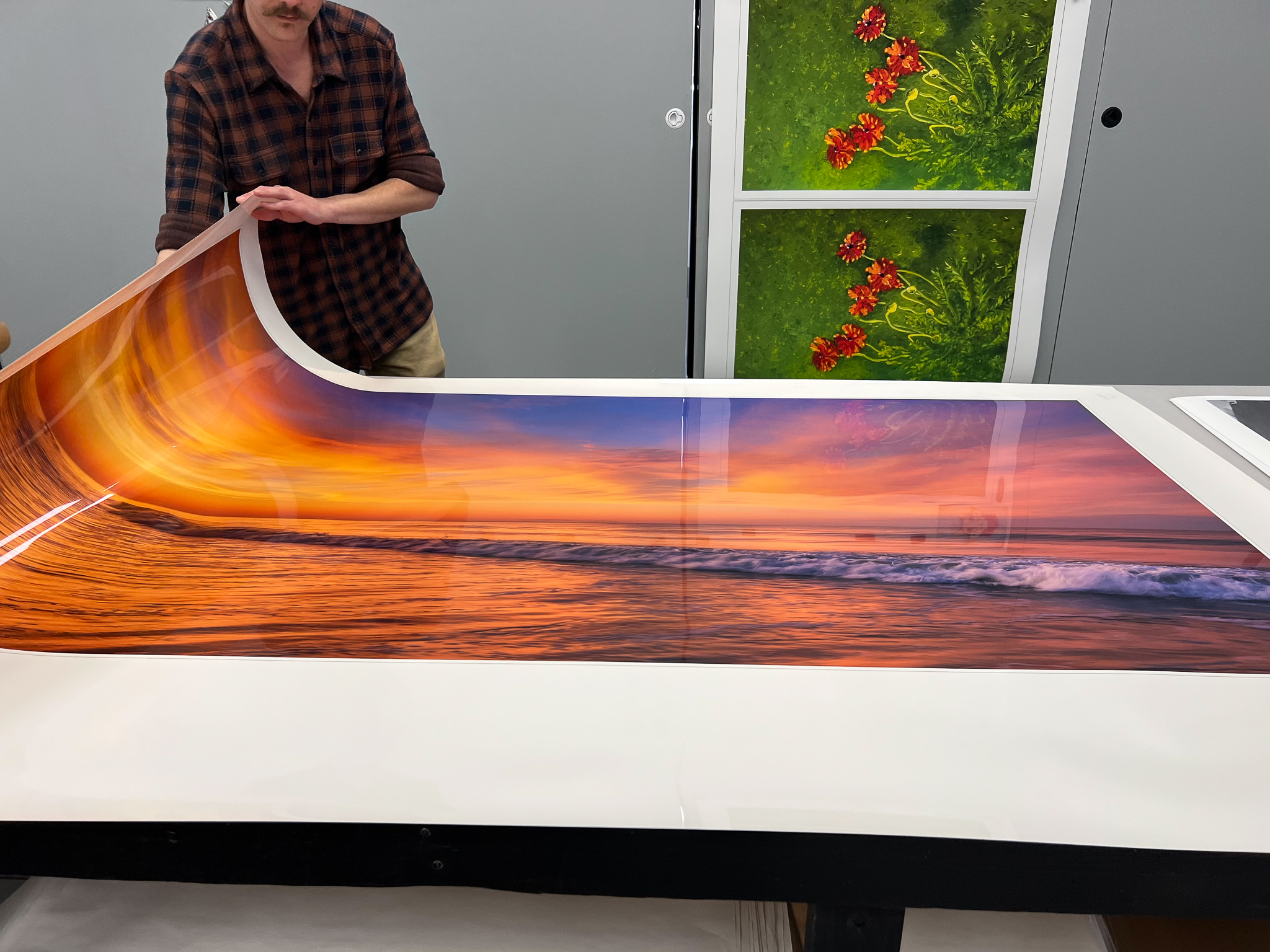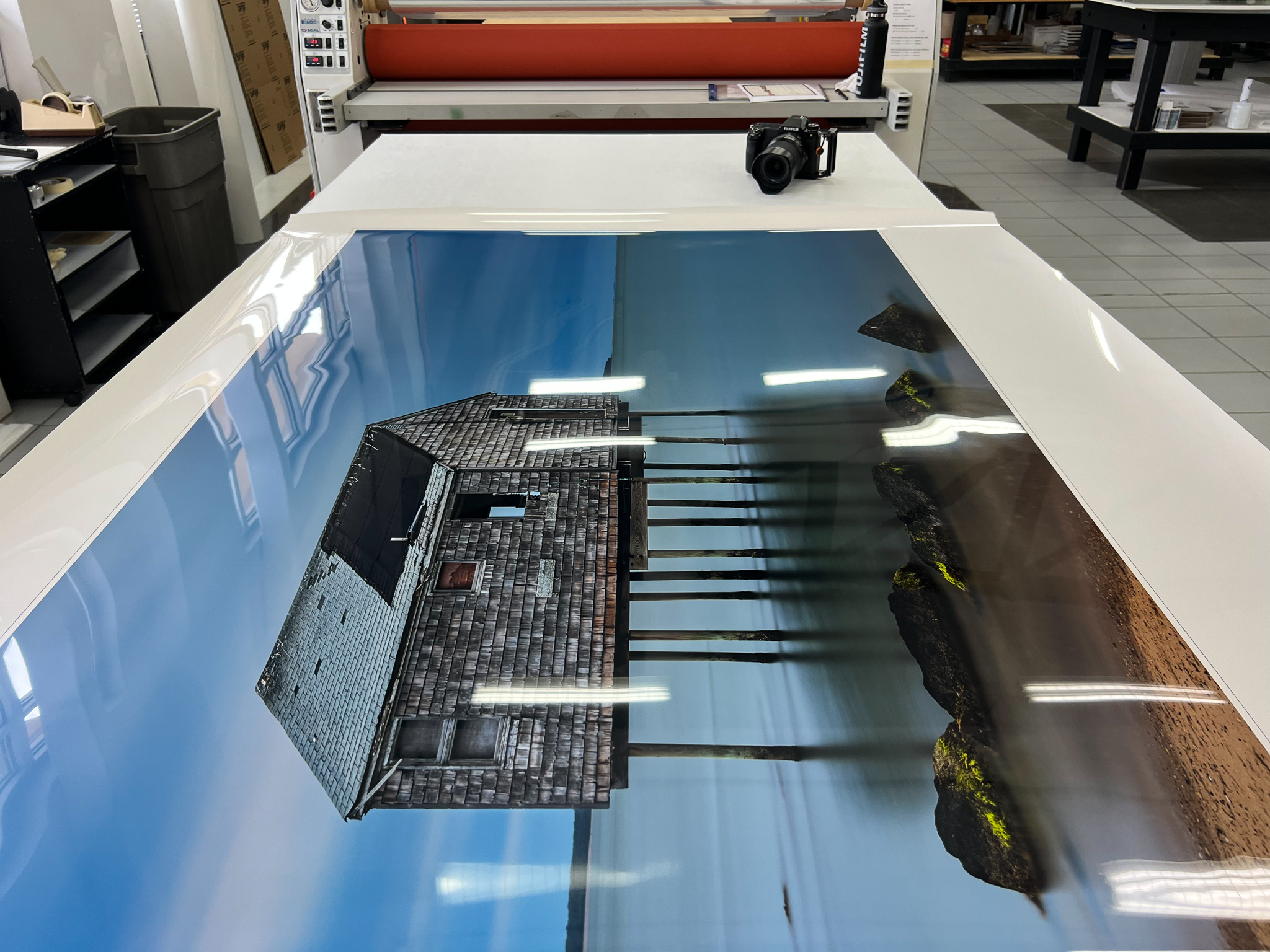 ---
The Printing Process – Digital Chromogenic Print

In a traditional darkroom, an enlarger projects the image of a photographic negative onto a sheet of photographic paper, while controlling focus, the intensity of the image and the amount of time it is exposed to light.

The traditional darkroom process is different from a digital chromogenic print process. With digital chromogenic prints, the work typically done by an enlarger is instead done by a computer, with the technician controlling for the same factors: focus, intensity, and duration of light exposure. In this case, the paper is exposed using lasers or LEDs rather than with a traditional lightbulb.

After the image has been exposed, the next step is what is called a wet chemical process. The paper that contains the image is processed in a photographic developer, then put through a bleach-fix, before ultimately being washed in water to remove the processing chemicals. The image is then left to dry and before it moved to its next step.


Let's get a little more geeky about Chromogenic Prints.

The class of color photographic processes known as chromogenic are characterized by a reaction between two chemicals to form (or give birth to) the color dyes that make up a photographic image. Chromogenic color images are composed of three main dye layers—cyan, magenta, and yellow—that together form a full color image. The light sensitive material in each layer is a silver halide emulsion—just like black and white papers. After exposure, the silver image is developed (or reduced) by a special color developer. In this reaction, the color developer in the areas of exposed silver are oxidized, and then react with another chemical, the dye coupler, which is present throughout the emulsion. This is the chromogenic reaction—the union of the oxidized developer and the dye coupler form a color dye. Different dye couplers are used in each layer, so this same reaction forms a different colored dye in each layer. A series of processing steps follow, which remove the remaining silver and silver compounds, leaving a color image composed of dyes in three layers.

Prints can be exposed using digital exposure systems yielding a digital C print. These are exposed using LEDs on light sensitive photographic paper and processed using traditional silver based chemistry. These digital systems expose the paper using red, green, and blue lasers or light emitting diodes, and have the capability of correcting paper sensitivity errors.


---
TruLife® Acrylic Facemount

TruLife® Acrylic makes prints pop out at you and gives them a three dimensional look.
TruLife® Acrylic is an innovative, anti-reflective, abrasion resistant acrylic, 99% UV protected acrylic developed specifically for direct print and face mount applications. It captures details with lifelike colors, incredible depth, and clarity for the highest-resolution viewing experience possible.


General Features and Benefits of TruLife® Acrylic:

-Virtually eliminates reflections when face/second surface mounted or directly printed.
-Achieves the most vibrant colors, depth, and clarity
-Blocks up to 99% of UV rays while transmitting 98% of light
-Anti-static properties minimize dust on the viewing side
-Durable proprietary hard coat protects against scratches
-Shatter resistance safeguards against injury and damage to artwork
-Cleans like glass – no special acrylic cleaners.
-Proprietary coating is engineered for permanence.



ANTI-REFLECTIVE COATING
• Anti-reflective coating on surface.
• Light reflection is reduced to less than 1.5% when mounted/ direct printed. *
• Magnetron sputtered coating helps ensure maximum durability and strength.
• Thin film coatings bonded to substrate at an atomic level.
• Utilizes crystal clear UV filtering extruded acrylic sheet.
• Transmitted color appears color neutral.

ABRASION RESISTANT
• TruLife® Acrylic will stand up to the wear and tear of high traffic areas and frequent cleaning.
• Acrylic sheet with hard coated, abrasion resistant surface
• Coating offers up to 20 times the protection against minor scratches compared to uncoated acrylic.

ANTI-STATIC SURFACE
• Long lasting anti-static protection on surface
• The surface resistivity is less than 1012 ohm/sq at 50% Relative Humidity.
• Anti-static protection exceeds that of glass and is engineered to immediately dissipate static charges.
• Independent tests show that TruLife acrylic is up to 2,000 times more static resistant than regular acrylic.
• Does not attract dust – minimizes cleaning.

---
GALLERY FLOAT - Photographic Metal Fine Art Prints (NOT Dye Sublimation)


Printed on beautiful Fuji Crystal Archive emulsion and sealed between solid aluminum and the most amazing high-gloss UV protective lam you have ever laid eyes on. No visible orange peel, it's as smooth and glossy as a face-mount to acrylic!
FEATURES
- Sharper detail than dye-sub or flat-bed
- Higher caliber print for the discerning eye.
- Thicker stock than most prints on metal so it's more durable with a more robust edge profile.
- Archive-rated photographic paper.
- A gloss that exceeds "infused metal prints"
Not to be confused with Metal Prints that print directly to aluminum, this is a real chromogenic latent image print behind a carefully sourced rare ultra-glossy UV lam and mounted on thicker, stiffer aluminum sheets. The level of detail in this print is so superior to infused / dye sublimation, you'll never look back. And the print to print consistency is absolutely incredible. This print offers the look of aluminum combined with all the amazing visual snap of our acrylic facemounts – sharpness, contrast, details, etc – but it's lighter, less expensive than acrylic, and provides you with a fine art print that looks the way it should.

This presentation takes the concept of metal prints to higher levels: higher definition, higher levels of shadow detail, higher levels of sharpness, and a higher level visual appearance.

---
Diasec® Method of Mounting Paper to Acrylic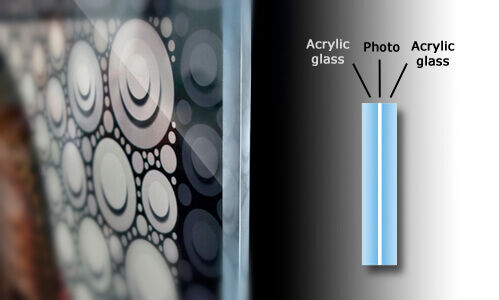 What is Diasec®?

Diasec® is a museum approved method of print preservation and presentation. Diasec is the first system that allowed photographs to be bonded directly and permanently to Acrylic sheets. It is the worlds most established and quality proven face-mounting process.Photographs are mounted to high exhibition standards without borders and eliminate the need for a traditional picture frame.

Diasec® is a patented mounting process which permanently joins together transparent acrylic glass and prints. It is the only mounting method that leaves the final work totally free of streaks or bubbles. Because of the different light penetration and refraction of acrylic glass, compared to normal glass, the colors are more brilliant and the image sharper. And because the print is glued to acrylic glass the result is a completely flat mounted image.
Diasec® and the process was invented by Diasec-Sovilla S.A. in Switzerland in 1969. It is a registered trademark and very few labs worldwide are licensed to use Diasec®.


Why Diasec® ?
Diasec® preserves your art chemically inert and stable, your image become airtight and protected from damaging UV and humidity, and is resistant to fungicidal matter, bacteria, and environmental pollutants. It's THE preservation method trusted by museums of fine art world-wide.

Cheap sticky films are used by nearly every photo lab in North America to adhere prints to acrylic. The problem with those films is that they fail. It could be tomorrow, next week, or next year. Expansion/contraction of the acrylic due to temp and humidity changes result in a separation between the adhesive and the acrylic – forever destroying that artwork with huge bubbles, tunnels, peeling edges and worse.

Diasec® gel remains flexible after curing and simply will not separate from the acrylic. Facemounts have been around for over 50 years and genuine Diasec® is the only technology proven to never fail. Period.

---

Hanging - Float Frame System

Our "Gallery, & Museum Floats" both use a float mount system, creating a ready to hang work of art that does not require exterior framing of any kind. This not only relieves you of the need to pay for expensive framing, but also creates a visually clean and crisp display that looks striking in any home or business environment.